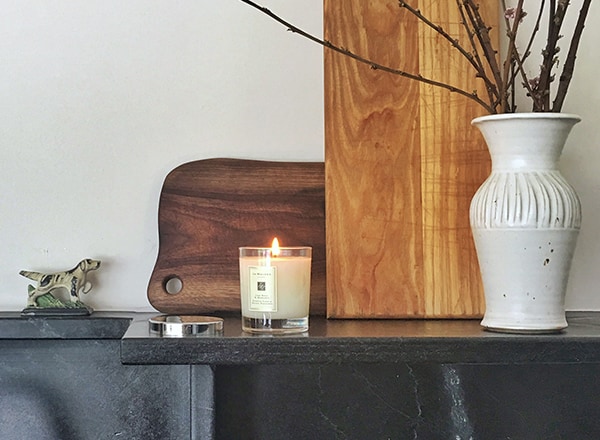 Scent is the most sensorial way to create a first impression, and the slightest hint of a fragrance can trigger special memories of people, occasions and places. Uniquely atmospheric, scent has the ability to tell a story and transform a space. It can work in parallel with design choices to create certain moods for certain rooms. Here's how some of our most knowledgeable friends in the world of interiors use scent in their homes...
East Coast interior designer and style influencer Megan Pflug
DESIGN AESTHETIC:
Inspired by her East Coast education and New York City, Megan describes her aesthetic as a blend of contemporary and traditional, exploring the balance between old and new.
DIFFUSERS VS CANDLES:
'I like to place candles where the warmth of the flame can be enjoyed, while I use diffusers where I want scent to be continuous, such as in a bathroom or hallway–places where you spend a short time yet get an instant lift.'
LIVING ROOM SCENT:
'Wood Sage & Sea Salt Home Candles. The scent is light and relaxing, which is key when you spend a long time in the room; you don't want to be overwhelmed.'
KITCHEN SCENT:
'Grapefruit. I like to opt for something that complements the function of the kitchen, think citrus or herbs–thesetend to work well because they don't fight the natural aromas of cooking.'
Scent suggestion for the maximalist:'I think the power of scent is in its subtlety. If the visuals are bold,it's nice to keep the scents light and easy–something like Basil & Neroli–so as not to overwhelm the senses.'
"Uniquely atmospheric, scent has the ability to tell a story and transform a space"

Interior Maven Denise Bolton of About This Haus
DESIGN AESTHETIC:
A mix of Scandi chic and quintessential English style, where one colour–white –reigns supreme. For British design enthusiast Denise, it's important that her home is 'calm, light, airy and full of comfort' and she creates that feel by using lots of tactile textiles partnered with pared-back accessories.
LIVING ROOM SCENT:
'The ever-alluring Pomegranate Noir. Sophisticated and sexy, exquisite and magical, both myself and my home wear it.'
KITCHEN SCENT:
'I like to stick with edible ingredients for the kitchen, so I tend to opt for a herbal-orcitrus-based scent. My favourite is a Green Tomato Leaf Home Candle; it transports me to the Mediterranean and is so gorgeously aromatic. Green, earthy and fresh.'
BEDROOM SCENT:
'For me, Peony & Blush Suede is thebedroom fragrance. It's subtle and balances delicate floral and fruitnotes;it's simply divine. And I always spray my bed linen with Lino Nel Vento Scent Surround Linen Spray, whichis so calming and restorative.'
Scent suggestion for the minimalist:'For those wholike things clean and pared-back, I'd recommend a comforting fresh scent like Wild Fig & Cassis. I like to think of it as a fragrance that gives arooma hug –really inviting.'
Olivia Lopez, creator of fashion-meets-interior-design blog Lust for Life
DESIGN AESTHETIC:
A blend of West Coast minimalism andmid-century modern.
Think dark wood accessorised with marble trays and fresh florals.
DIFFUSERS VS CANDLES:
'I can't deny my love of candles. I have a candle on almost every surface in my home–one that I burn at my desk, a large Luxury Candle that I light when prepping dinner and there's a coffee-table candle that I light as soon as I get home in the evening.'
LIVING ROOM SCENT:
'Oud & Bergamot Home Candle. I love a smoky scent for the living room, something that complements the warm wooden tones of the room.'
BEDROOM SCENT:
'Lavender & LovageHome Candleis my favourite boudoir scent.It's so delicate and light, and I think it aids my relaxation.' 
Scent suggestion to compliment colour:'Mimosa & Cardamomis the perfect coupling colour-wise. Thefragrance has lots of layers and seems like an unlikely combination,which to me makes it really memorable.'